Here are some fun photos of different Dream Dragon related events taken over the years.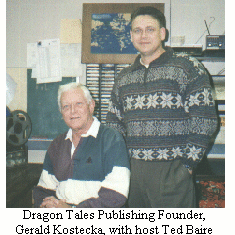 Gerald's first ever radio interview on KDWN in Las Vegas, NV USA
Gerald, his wife Susan and sons Nicholas and Nathaniel at a Harry Potter read-a-thon
The book Dreamtime Friend was read by none other than Santa Claus during a special holiday event with the Ronald McDonald House in Orange, CA. All of the kids received copies of the book, a read-a-long & sing-a-song cassette tape and more as an early Christmas gift.
The Barnes & Nobel bookstore in Costa Mesa, CA USA hosted a Dream Dragon book donation event, where over $12,000.00 worth of books were donated to several
non-profit literacy programs serving residents of Orange County, CA.
Gerald was flown to New York to appear as a guest panelist on the Sally Jessy Raphael Show
to discuss the role of parenting as it pertains to student involved school shootings.
Show producers were so impressed with Gerald's appearance on the Sally Show that he was invited to appear as a guest on the Rob Nelson Show in Burbank, CA USA to discuss the role of parenting as it pertains to teen and pre-teen sex.
Gerald and his wife Susan were invited by Denise Brown of the Nicole Brown Charitable Foundation to attend and display the Dream Dragon stories at a Renaissance Fair at the Del Mar race track in San Diego. Gerald even presented the Queen with a copy of his book, Dreamtime Friend!
The original Dreamtime Friend book was featured on the Show The Reading Room. You can watch the episode below.